Dentist in Barking, Essex

Very good service at reception, and good dentists. They explain everything to you and give you costs up front, so no surprises later!

A Shahi
Why Choose Us
Our Team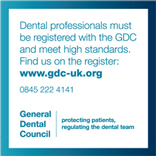 All our dentists adhere to the rules governing the profession under strict guidance from the General Dental Council (GDC) "Standards for Dental Professionals".
Practice Manager
Carina Townsend
Carina has been Practice Manager at East Street since 2003. With her wealth of experience and people skills, she is happy to address any queries in an effective and efficient manner. She deals with the day to day running of the practice, and is always at hand to make you feel welcome and make sure you receive the high standard of dental care that is associated with the practice.
Dentists
Dr Nimisha Patel
BDS Lond 2005,MFGDP(UK), Dip Rest Dent (RCS Eng)
GDC Registration No. 85991
Since graduating from Kings College London Dental Institute in 2005, Dr. Patel completed her year long vocational training in Northampton. Being committed to continuous learning she attained her postgraduate qualification of the Diploma of Membership of the Faculty of General Dental Practice by the Royal College of Surgeons UK (MFGDP (UK)). Whilst in Northampton she had taken upon mentoring courses that led her to be a successful vocational trainer to newly qualified dentist.
Dr. Patel strives to offer her patients the best possible care by listening to their concerns and giving them the right options. Together with her team, she tries to offer a calming and relaxing ambience especially for her nervous patients. She went on to further complete the prestigious Diploma in Restorative Dentistry at the Royal College of Surgeons England (Dip Rest Dent (RCS Eng)) so as to offer the highest standards in dental practice to her patients resulting in amazing aesthetic and functional results.
Recently, Dr. Patel has completed further courses and is offering her patients cosmetic orthodontics (braces), by using IN-LINE (invisible) clear aligners and is also an accredited Six-Months Smile Provider. This treatment is for patients who are unhappy with their smiles due to misaligned teeth.
She is also a full member of the British Dental Association (BDA) and Faculty of General Dental Practitioners (FGDP) UK.
When she is not studying or practising dentistry, Dr. Patel has a passion for photography and travelling. After several lessons in golf she'll also be seen in the local driving range practicing her swing!
Dr Manisha Sareen
BDS Birm 2010, MJDF RCS (Lon)
GDC Registration No. 192149
Since qualifying from the University of Birmingham in 2010, Dr Sareen has been keen to develop herself professionally. She is a member of the joint dental faculties and has completed a BAARID approved Postgraduate Certificate in Contemporary Restorative and Cosmetic Dentistry.
Having worked in both NHS and Private dental practices within the East Midlands and London area, she enjoys all aspects of dentistry, particularly treating nervous patients with whom she finds completing treatment very rewarding.
Dr Sareen is also a licensed provider of orthodontic systems such as the Inman aligner and the innovative Fastbraces© system.
Languages spoken; English, Hindi, Punjabi and Urdu
Dr Kunal Kotecha
MDDr Charles U Prague 2014
GDC Registration No. 252806
Upon Qualifying from Charles University in Prague, Czech Republic in 2014 Dr Kunal Kotecha went onto practice dentistry as a dental associate, enjoying all aspects of General Dentistry. He has a keen interest in Preventative Dentistry and Aesthetic Dentistry and is friendly, caring with an ethical manner towards his patients.
In his spare time he enjoys cooking, relaxing, watching films and playing basketball.
Dr Adelina Haas
Dip Medic Stomatology Rom 1995
GDC Registration No. 115849
Adelina Haas qualified in 1995 in Romania where she obtained her qualification. Adelina worked in Timisoara, Romania as a dentist for 12 years and ran her own practice for 18 months. Since her move to the UK Adelina has worked in NHS/ private practice and joined East Street Dental in Barking in April 2016.
Adelina has solid professional integrity and feels capable of meeting any challenges during her work. She is keen to expand her knowledge and skills and is kind and caring.
Languages spoken: English, German, Romanian.
Dr Obiaderi Adomo
Stat Exam 2014 BDS Lagos 2003
GDC Registration No. 224721
Dr Obiaderi Adomo qualified as a dentist in Lagos, Nigeria in 2003. She worked in a multi-disciplinary hospital for 6 years, before moving to the UK.
Dr Adomo qualified as a dentist in the UK in 2014, after successfully completing the overseas registration examinations for dentists.
She enjoys all aspects of dentistry and has keen interest in cosmetic and aesthetic dentistry. She believes in putting patient's best interests first, while providing quality dental care with good ethics.
Dr Adomo is committed to continuing professional development and improving her knowledge and skills. She enjoys cooking and reading in her spare time.
Dr Iqra Farhad
Stat Exam 2016 BDS Khyber MU 2009
GDC Registration No. 268699
Dr Iqra Farhad graduated from Ayub Medical College, Khyber Medical University Pakistan with distinctions and gold medals. Her hard work, self-motivation and determination enabled her registration with GDC as a Dental Associate in 2016 with completion of ORE.
Dr Farhad offers the best possible care to all her patients keeping their best interests in mind. She has a friendly nature which helps her treat anxious patients without any problems. She enjoys all aspects of dentistry and takes difficult extractions as a challenge and feels it's always rewarding bringing the patient out of pain.
Dr Farhad is always keen in expanding her knowledge and has undertaken C_Fast course for quick correction of malalignment and aesthetic courses for Botox and fillers. In the future, Dr Farhad is planning to undertake post-graduation in Oral surgery to further enhance her skills and knowledge.
Additional languages spoken: Urdu, Hindi, Punjabi
Hygienist
Asha Reddy
Registered under s36C of the Dentists Act 1984 2019
GDC Registration No. 219194